Snow Like Ashes by Sarah Raasch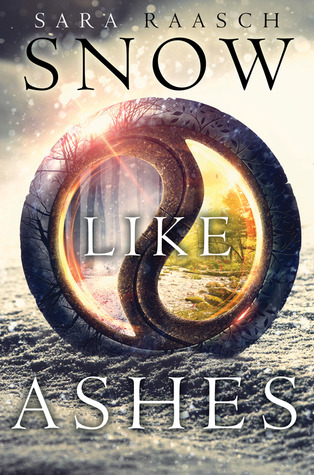 Rating
3.5/5
Goodreads Description
A heartbroken girl. A fierce warrior. A hero in the making.
Sixteen years ago the Kingdom of Winter was conquered and its citizens enslaved, leaving them without magic or a monarch. Now, the Winterians' only hope for freedom is the eight survivors who managed to escape, and who have been waiting for the opportunity to steal back Winter's magic and rebuild the kingdom ever since.
Orphaned as an infant during Winter's defeat, Meira has lived her whole life as a refugee, raised by the Winterians' general, Sir. Training to be a warrior—and desperately in love with her best friend, and future king, Mather — she would do anything to help her kingdom rise to power again.
So when scouts discover the location of the ancient locket that can restore Winter's magic, Meira decides to go after it herself. Finally, she's scaling towers, fighting enemy soldiers, and serving her kingdom just as she's always dreamed she would. But the mission doesn't go as planned, and Meira soon finds herself thrust into a world of evil magic and dangerous politics – and ultimately comes to realize that her destiny is not, never has been, her own.
My Review
I enjoyed this novel, but we will get to that soon. I picked up this book not only for the good things I had heard about it but for the chakram on the cover. A young adult novel with a heroine who's weapon of choice is a chakram? Yes please! Immediately I thought of Xena, my absolute favorite heroine and television show (Buffy a close second, by just a hair!). I loved all of the descriptions of its use but especially since a chakram and how it behaves it a bit difficult to describe to anyone completely unfamiliar with the concept.
But back to the novel 🙂 I liked reading this novel. It was not amazing, not bad, it was just pretty good. It didn't stand out to me but that doesn't mean I didn't enjoy the story. I think it is an interesting idea to have the four kingdoms be frozen in a permanent season while the four remaining kingdoms cycled through naturally.
What really bugged me about this, though, was the set up of the maps and the names. You all know how much I love maps and graphics and any other extras authors include to create their worlds. While it doesn't really have an effect on the story, the map for Snow Like Ashes left me wanting.
All of the seasons are side by side in relative squares with mountains, forest, plains and seas surrounding them. The actual kingdoms arent split by anything other than a boundary line which I find hard to believe if they are stuck in perpetual seasons. I realize this is a fantasy novel and that the magic from the mountains is one of the reasons for the seasons. Still I think it would have been better to separate the kingdoms by geographical boundaries that would correlate with their season. For example, Winter the in mountains, Autumn in the forest, Summer by the lake and Spring in the plains. What also bothered me was the names of the capitals of the seasons. Juli, Oktuber, Jannuari, and Abril? Really? Again, I get it goes with the seasons, but I wish there was something more inspired than alternate spellings of months. But that is just me being picky.
As for the story, a lot of the elements used were familiar. *SPOILERS* A girl who doesn't realize she is the heir to the Winterian throne, that she is the magic, the desire to do something else than rule, an oppressed people by the evil magic wielder and the love triangle. Why does there always have to be a love triangle? Can't a strong girl in a young adult novel think "I am enough, I don't need either of you, I am good with me"? That said, I liked both of the male characters. I enjoyed Meira too and her commitment to her people, even when she though she was just a lowly Winterian citizen who survived the massacre on a fluke. The ending when she leads the rebellion of the Winterians against the kingdom of Spring is fast paced and exciting. Definitely was turning pages fast in that section.
In Summary
The Good
Loved the idea for perpetual seasons
A CHAKRAM WIELDING HEROINE
The Bad
Poorly set up map and irritating names (IMO)
A familiar feeling story, not amazing but not bad either
Recommendation
This book still kept me interested enough to want to know more. I think there is room for improvement but I feel like a lot of the story could be expanded on in future novels. I will still be picking up the next book in the series 🙂
♥, Clare