The Suffering by Rin Chupeco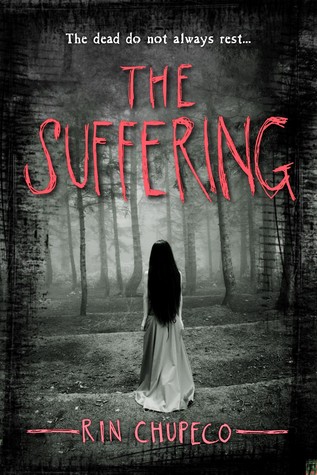 Rating
4/5
I received this novel from NetGalley in exchange for an honest review.
Goodreads Description
Over the last year I've gone against faceless women, disfigured spirits, and grotesque revenants. Some people keep dangerous hobbies; skydiving and driving at monster truck rallies and glacier surfing. Me? I cast my soul into the churning waters of potential damnation and wait for a bite.
It's been two years since Tark Halloway's nightmare ended. Free from the evil spirit that haunted him all his life, he now aids the ghostly Okiku and avenges the souls of innocent children by hunting down their murderers. But when Okiku becomes responsible for a death at his high school, Tark begins to wonder if they're no better than the killers they seek out.
When an old friend disappears in Aokigahara, Japan's infamous 'suicide forest', both must resolve their differences and return to that country of secrets to find her.
Because there is a strange village inside Aokigahara, a village people claim does not exist. A village where strange things lie waiting.
A village with old ghosts and an ancient evil – one that may be stronger than even Okiku…
My Review
This novel was another solid entry in The Girl From the Well series by Rin Chupeco! I am loving the vengeful ghost thing! The Suffering is told from Tark's point of view as he navigates having Okiku as part of him and helping her continue her murderous justice against those who harm children. There is more discord between the two concerning the morality of the killings, which I found really thought-provoking. However, the exciting part didn't truly begin until they were both headed back to Japan to search for a missing old friend, one of the shrine maidens of the previous novel, in the infamous "suicide forest," Aokigahara. This forest is not a beautiful and friendly place.
No. It is dark and deep and, most importantly, haunted.
I absolutely loved the idea of having an American film crew for one of those "Haunted Places" shows come to Japan to find the ghosts of Aokigahara with the help of the shrine maiden, only to go missing as they discover that some hauntings are better left undisturbed. A lot of those shows seem haughty and I was glad to see them get a taste of a real horror show.
Without giving too much away, there were so many different exciting elements packed into the story. Haunted villages! Possessed dolls! Cults! Ghost brides! More scary dead Asian girls with long hair in their face!  It didn't feel like a rehashing of the first book to me, though. A similar story, but with new action, new settings, and character development. I loved how much information on Japanese culture Chupeco can cram into a horror novel. The Aokigahara forest was particularly fascinating, being a real place where many people do commit suicide.
The only thing I can say that was a light disappointment was the narration by Tark. He was not a bad narrator and it was definitely necessary for this novel to get his perspective but I just really missed Okiku's perspective and her choppy way of thinking.
In Summary
The Good
Japanese culture mixed with a horror story
Suicide forests! Possessed Dolls! Japanese ghost brides! Cults! American ghost hunters!
Real character development for Tark and Okiku within themselves and regarding each other
The Not So Good
I like Okiku as a narrator better than Tark
Recommendation
Absolutely, yes! I love this series. Packed with culture and scares, how can you not? Plus, Japanese ghost brides!
♥, Clare