A Court of Thorns and Roses by Sarah J. Maas, Red Queen by Vitoria Aveyard, and An Ember in the Ashes by Sabaa Tahir
Rating
4.5/5 Stars Each
I read all three of these books in one week (along with a few others ;-)) and I adored them all. So many people have reviewed these novels that I thought I would, instead, offer a combined post that showcases the maps in a mash up of awesome.
Goodreads Descriptions
A thrilling, seductive new series from New York Times bestselling author Sarah J. Maas, blending Beauty and the Beast with faerie lore.
When nineteen-year-old huntress Feyre kills a wolf in the woods, a beast-like creature arrives to demand retribution for it. Dragged to a treacherous magical land she only knows about from legends, Feyre discovers that her captor is not an animal, but Tamlin—one of the lethal, immortal faeries who once ruled their world.
As she dwells on his estate, her feelings for Tamlin transform from icy hostility into a fiery passion that burns through every lie and warning she's been told about the beautiful, dangerous world of the Fae. But an ancient, wicked shadow grows over the faerie lands, and Feyre must find a way to stop it . . . or doom Tamlin—and his world—forever.
Perfect for fans of Kristin Cashore and George R. R. Martin, this first book in a sexy and action-packed new series is impossible to put down!
_____________
The poverty stricken Reds are commoners, living under the rule of the Silvers, elite warriors with god-like powers.
To Mare Barrow, a 17-year-old Red girl from The Stilts, it looks like nothing will ever change.
Mare finds herself working in the Silver Palace, at the centre of
those she hates the most. She quickly discovers that, despite her red blood, she possesses a deadly power of her own. One that threatens to destroy Silver control.
But power is a dangerous game. And in this world divided by blood, who will win?
_____________
Laia is a slave. Elias is a soldier. Neither is free.
Under the Martial Empire, defiance is met with death. Those who do not vow their blood and bodies to the Emperor risk the execution of their loved ones and the destruction of all they hold dear.
It is in this brutal world, inspired by ancient Rome, that Laia lives with her grandparents and older brother. The family ekes out an existence in the Empire's impoverished backstreets. They do not challenge the Empire. They've seen what happens to those who do.
But when Laia's brother is arrested for treason, Laia is forced to make a decision. In exchange for help from rebels who promise to rescue her brother, she will risk her life to spy for them from within the Empire's greatest military academy.
There, Laia meets Elias, the school's finest soldier—and secretly, its most unwilling. Elias wants only to be free of the tyranny he's being trained to enforce. He and Laia will soon realize that their destinies are intertwined—and that their choices will change the fate of the Empire itself.
____________________________________________
Map and Extras
A Court of Thorns and Roses
This map is okay to me. I love the design of the land and the terrain but I hate how square the boundary lines are. I feel like boundaries should not be boxy, but instead respond to the terrain. However, these boundaries are not for nations, but courts of the Fae so I can see the reasoning for such straight lines. Just a personal pet peeve. Otherwise, the font and look of the map are great. Maas also includes a pronunciation guide which is super helpful for the invented names and creatures!
Red Queen
It took me a minute to adjust my thinking to this map with having the sea be dark red and the land mass a lighter color. Definitely a fan of this one. There are more realistic boundary lines, running along rivers and terrain. The placement of the cities is perfect for the events that need to happen there.
An Ember in the Ashes
Best map! Varied terrain! Realistic city placement in relation to resources! and COLOR! Absolutely gorgeous. I am so glad the author included a map of Blackcliff academy itself. That is where the straight lines and regimented sections make sense. I was constantly flipping back and forth to see where each event was taking place in the academy and in the wider world.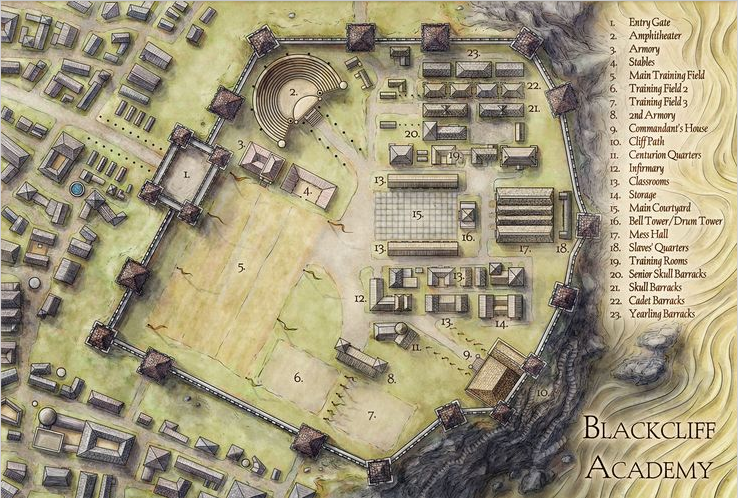 ____________________________________________
The Good
These are the beginnings of three promising fantasy series. All imaginative and gripping, the novels provide fascinating escapes into new worlds.
The Not So Good
We have to wait for the second books of each series to come out!
Recommendation
Definitely pick up any and all of these books! They are each a fabulous beginning to a new series. Go ahead, choose your own adventure!
♥, Clare
A Court of Thorns and Roses
Red Queen
An Ember in the Ashes